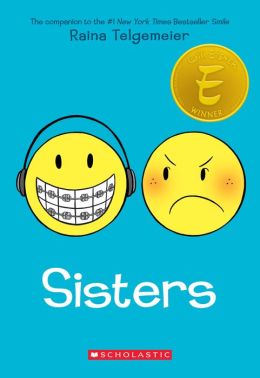 Smile by Raina Telgemeier
is well-known to tween girls as a fantastic graphic novel aimed at them. It's the story of the author's horrible accident that damaged her teeth while in sixth grade.
Sisters
is the companion book to
Smile
, and it's also autobiographical. Raina longed for a little sister until she actually got one. When Amara is born nothing is quite like she thought it would be. In this story, the family is heading from California to Colorado on a big road trip and Raina and Amara aren't getting along. The girls worry about their parents relationship, deal with a not-so-fun family reunion, and find a big surprise in their mom's VW van. Anyone with siblings will recognize how true-to-life this story is. It's a quick, easy read that will be loved by fans of Raina Telgemeier's other books.